By Rick Bell Tuesday, August 18, 2015
It used to be that banks offered toasters or beer cozies for opening a new account, but since the Dodd-Frank Act, bankers are more concerned with not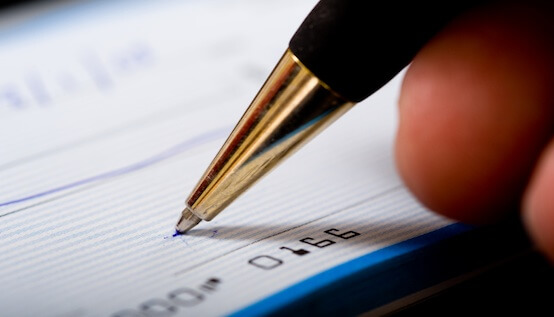 opening accounts for the wrong people than they are about finding new clients. Many bankers in big cities are fearful of any new customer who walks in requesting to open a new account.
For this reason, walking into a bank to open up a business account for your newly-formed Delaware company can be stressful. Banks and bankers are a diverse group, each with their own set of suspicions and biases. They fear the regulators more than they want your business.
However, if you walk in prepared, your chances of opening an account without being cross-examined or embarrassed are greatly improved. In fact, if you have a clear idea of what you'll be asked to present and already have it in your briefcase, opening a business bank account can actually be a stress-free event.
First, let the bank representative know right away what your new company does and why you'll need a bank account. This may sound obvious—every company needs a bank account—but think about it this way: the first thing the bank representative will have to explain to his/her supervisor is what you're doing with your new company and why you want a bank account. Try to tailor the following explanation to your situation:
"Hello Mr. Jones, I'm John Adams and I'm planning to open a restaurant here in [insert city]. I'm going to need a banking relationship in order to lease a location, hire employees and accept customers' credit cards."
Now you have answered the first question he/she will have to relay to his/her supervisor and banking regulators.
Next, you want to establish a connection between you and the bank. Try this line, using your own referral: "Tom Smith from XYZ Company suggested I speak with you, and highly recommended the customer service at your bank."
Now the bank representative is feeling great about opening an account for you, because you have a good reason to need a bank account and there is a pre-existing connection between you and the bank.
At this point, you can continue to impress the bank representative with the documents in your briefcase, which should include:
Your Certificate of Formation from the state of Delaware
Your Statement of the Authorized Person, naming you as the managing-member of the LLC
Your Certificate of Authority from your home state
The notice from the IRS with your EIN (Federal Tax ID Number) on it
The Operating Agreement for your LLC, with the signatures of all the members on the signatory page.
Any of your company's promotional material, such as a brochure, advertisement or screen print of your home page
Your personal identification: a driver's license or passport
You might also have a Banking Resolution already prepared, but banks usually have their own forms they prefer to use. A banking resolution can also be in the form of corporate minutes of a meeting of the members with a special resolution giving you the power to open a bank account at a specific bank. We are happy to share this example of a banking resolution with you.
Remember, you can call Harvard Business Services, Inc. from the bank if there are any questions about your Delaware company, or if you need any documents emailed to you while you wait.